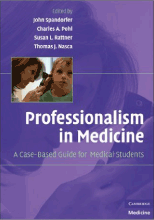 Spandorfer J, Pohl C, Nasca T, Rattner SL, eds. Professionalism in Medicine : A Case-Based Guide for Medical Students. Cambridge: Cambridge University Press; 2010.


---
A Medical Student Perspective
Many medical students on their core clinical rotations see their work on a clinical team as redundant. Every note they write is rewritten or co-signed not only by the intern, but by the resident and often by an attending. Every order they place must also be reviewed/co-signed up the chain of command. As a third year medical student, it is easy for one to be disenchanted with his place on the team and feel trivialized.
In today's health care climate, physicians are under pressure to see a large volume of patients more efficiently. Overall time spent seeing the patient is further reduced due to increased administrative duties. Primary care physicians may spend an average of 10-20 minutes per patient1. As medical students, we are in a unique position. Given our lighter patient load, we have the luxury of spending more time with our patients than our mentors. In this particular case, the extra time the student spent with the patient shed light on a probable cause for the patient's inability to maintain a therapeutic dose of warfarin -- his alcohol consumption.
On my first day of an inpatient rotation during my third year -- my first day on the "ward" -- I was in a pediatric unit, examining my first patient and noticed a heart murmur on physical exam. The patient had been on the floor for two days, but in looking over the previous notes, I noticed that neither the resident nor the attending documented this murmur. Since it was my first day, I was still unsure of myself, but summoning the little self-confidence I had, I presented my findings to the resident. Thankfully, the resident not only appreciated my input but also went over to the patient with me, performed a cardiac exam, and also noticed the murmur. This experience showed me how important it is to the team environment to have encouraging leaders who provide a safe setting for the other members of a team to voice their opinion.
Though we do not know the result of the vignette, the student will next present his findings to the physician. As Dr. Holmboe highlights below, an important part of health care education in the clinical setting is having team leaders, the physicians, in facilitating roles, where the other members of the team can approach them with their opinions.
Similarly, the medical student needs to demonstrate an adequate level of development as a team member -- and demonstrate competence and a willingness to take responsibility3. The student can assist the physician's role as a leader and facilitator. After identifying the patient's alcohol consumption as an important modifier of his anticoagulation status, the student should relay the importance of this information to the physician. In an ideal environment, the physician would facilitate this communication and, if necessary, act on the new information.
However, practical situations are hardly ideal, and there are team settings where lines of power and authority are clearly drawn. It is my hope that our educational system will continue to improve, and in much the way we have fostered interdisciplinary care on the floors -- integrating different specialties as well as different professions (nursing, medicine, pharmacy, social services, etc) -- we will continue to tread towards integration amongst the lanes of hierarchy, as seen in the relationship between the student and attending physician.
References:
Gottschalk A, Flocked SA (2005) Time Spent in Face-to-Face Patient Care and Work Outside the Examination Room Annals of Family Medicine 3:488-493.


Institute of Medicine (2003). Health Professions Education: A Bridge to Quality. Washington, DC: National Academy of Sciences.


Hersey, P. (1984) .The Situational Leader. Escondido, CA: Center for Leadership Studies.
Neerav Goyal, MPH
Medical Student, Jefferson Medical College